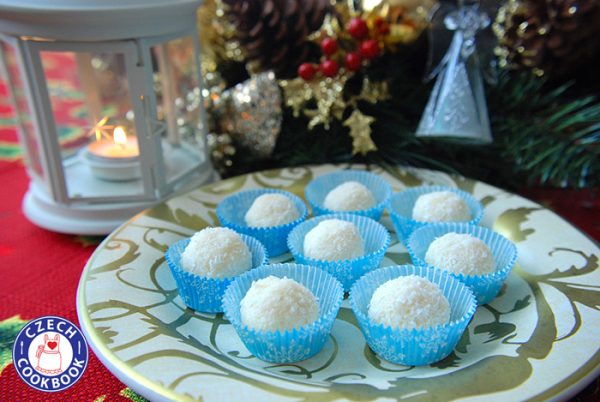 Ingredients:
Makes about: 66
Prep: 5 min.
Mix: 5 min.
Rest: Overnight
Hands on: 30-45 min.
1 can (14oz) sweetened condensed milk
4 cups unsweetened coconut plus more for coating
1/2 heaping cup almonds
Directions:
Put 4 cups unsweetened shredded coconut into a medium sized bowl.
Pour the can of sweetened condensed milk over the shredded coconut and mix it all together until it is all well incorporated and most of the dry coconut is coated.
Cover the bowl with plastic wrap and put in a refrigerator overnight.
Next day: Put 1⁄2 cup of almonds into a pot, cover with water and bring to boil. As soon it starts to boil, turn the stove off and strain the water out using a strainer. Let the almonds cool off.
With your hands, peel the skin from all the almonds and set aside. (It comes off easily.)
Put unsweetened shredded coconut into a tray and set aside.
Take the coconut mixture out of the refrigerator. Grab a peeled almond and a small piece of the coconut mixture. Make into a ball, while trying to keep the almond in the middle. Roll the ball in the palm of your hand to help it to be more round.
Lastly, roll into the tray of coconut to coat the whole ball.